View south from the North Rim's Transept Trail with Brahma Temple (left) and Zoroaster Temple (right) in the distance.
Grand Canyon is a great place to learn and teach geology. While the mystery it reveals still has plenty of missing clues and there's disagreement over what some of the clues mean, the rocks most visitors see make sense. At least as long as they don't look too long or too close. Then it gets really interesting. Not unlike a great work of art.
The materials here are not for the geologically uninitiated. They are not self explanatory and are not intended to be. They are provided for educators and interpreters as props and ideas for their own geology talks.
---
Scott's Grand Canyon Geology Cheat Sheet
This graphic is handy as a card or poster. The simplified stratigraphic column gives environments and identifiable features for each major unit. The vertical bar along the left margin shows the geologic time scale and the spans of time represented by each rock unit, color coded to the strat column. This not only shows missing time but illustrates that rock layer thickness is not a good indicator of time.
Scott's Grand Canyon Geology Cheat Sheet 8.5"x11"
Scott's Grand Canyon Geology Cheat Sheet 24"x32"
USGS Fact Sheet 2010-3059 Divisions of Geologic Time
---
Life in the Kaibab Sea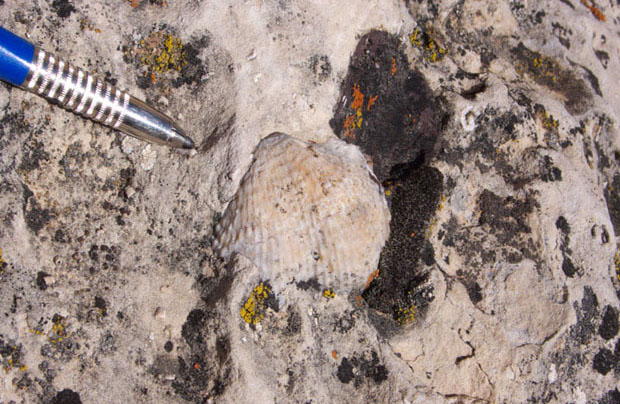 A brachiopod fossil in the Kaibab Formation along Bright Angel Point Trail.
For this scavenger hunt you need a bit of luck. First, you need a fossil-chocked cliff of Kaibab limestone. It needs to be an east-facing cliff for best light. Most important, your fossil crew should be on the outcrop shortly after dawn. You can start later, but it gets hot pretty quick with the summer sun on your back and the white limestone in your face.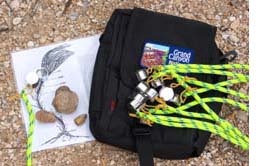 Fortunately, the North Rim has several good spots on the Bright Angel Point Trail. Keep the group small. That way everyone has a chance to look for fossils.
The PDF includes a handout with sketches of common fossils found in the Kaibab. There's also a brachiopod fossil photo from the Kaibab and crinoids (not from Grand Canyon). A kit like the one at left comes in handy with show-and-tell fossils and hand lenses. You can find inexpensive triplets online for about $5.



---
Fossil Factory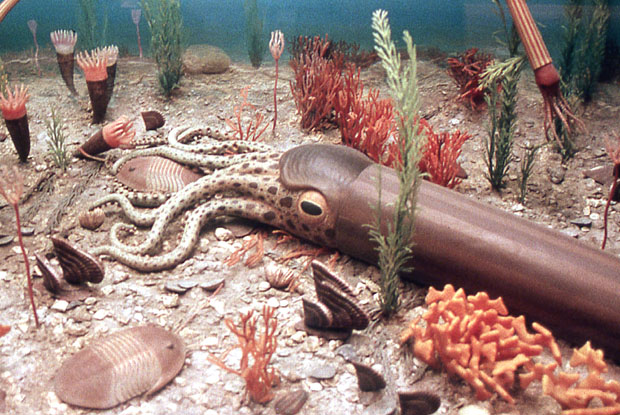 A Silurian undersea diorama at the National Museum of Natural History, Smithsonian Institution, Washington D.C.
If you're looking for fun things to do with fossils, try this family-friendly program. Rocks and fossils tell us about ancient environments and what lived in them. The challenge can be imagining what the animals looked like alive and how they lived. The PDF has cards for several fossils found in the canyon. Briefly talk about each one and have everybody pick out a card (make several copies of each). The goal is to bring the animal to life in clay.
Keep natural clay in an airtight bucket and fill a second bucket with water for cleaning up. Have plenty of clean rags on hand. Parents should take photos of their creatures' creatures because all clay goes back to whence it came for the next group.
---
Monsters and Microbes
Geoparty! Following the format of a popular television game show, this family-friendly program needs a dark place to project slides for audience participation. A clue sheet is passed out as visitors arrive. The program has two parts, though the audience is not told this until the first part of the show is finished. The slide set includes high-resolution images from which 35mm slides can be made for projection.
Slides are presented in order as the game show host helps the audience imagine past life and environments and guesses the question to each answer. The first person who questions each answer correctly receives a laminated card with his or her creature. When all the cards have been given out, the second part of the show begins. Card holders come forward and form a line. It is up to the audience to put them in the correct order of geologic time. When the audience has finished, the host reveals the correct order. The whole show lasts about 45 minutes.
---
A Native Perspective
Ranger Benn Pikyavit's presentation at Walhalla Overlook during Heritage Days, August 2013.
---
The Night Sky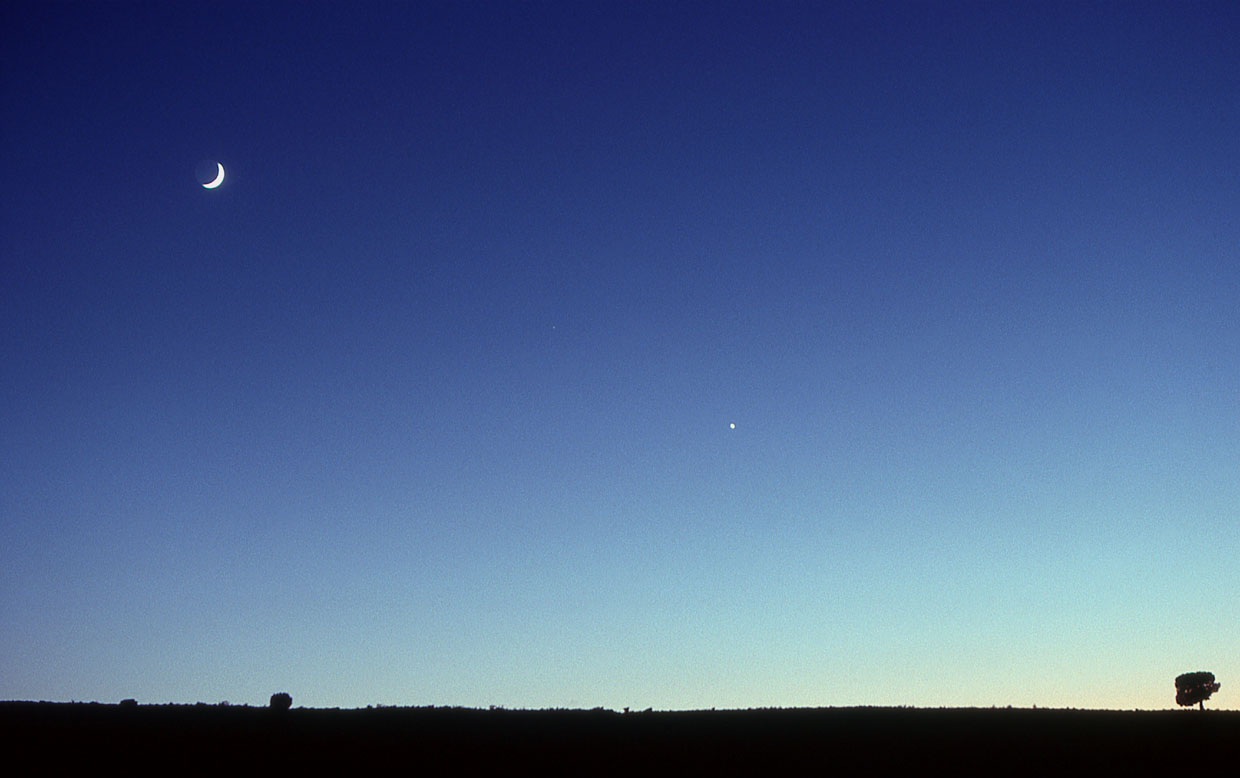 The moon, Mars, and Venus setting over the Kaibito Plateau, July 1989.
If you know the night sky and a fair amount about astronomy, telescope viewing is a guaranteed crowd pleaser. Of course, you also need a telescope. Here's a sample handout, including sky maps from John Walker's Your Sky. Tablets come in handy for showing stargazers where they're looking. On Kindle, Stellarium is a simple and inexpensive app based on the open-source software for Linux, Mac OS X, and Windows. SkEye Pro is a much more detailed sky atlas.
If you're fortunate enough to be on the North Rim, check the daily program schedule at the visitor center for the telescope viewing program (staff and budget permitting). For a week of multi-scope activities, the annual Star Party is held on both South and North Rims in early summer.
---
About the Author
Scott is well versed in the geology of western North America and has spent more than 30 years studying, photographing, and guiding trips. As a volunteer guide, he has organized and led more than 50 weeks of geology and natural history field trips in the southwest and Gulf of California for private groups. Since 1995 he has offered an online collection of images, movies, maps, and guides, most recently through Travels-in-Time.com. His educational presentations have included thousands of slide shows, many thousands of lecture hours, and videos, CDs, DVDs, websites, manuals, and articles; most for a lay audience. He was Geoscientist-in-the-Park on the North Rim during the 2011 season and an interpretive park ranger for the 2013 and 2014 seasons.